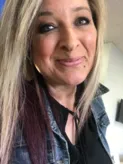 Karen Dzibinski
Hello, I'm Karen, and I am truly passionate about helping individuals transform their lives and reach their goals. With over 17 years of experience in the weight loss industry, I have dedicated my career to guiding others on their journey to health and wellness.
Over the years, I have had the privilege of working with numerous individuals from all walks of life. Through personalized meal plans, tailored exercise regimens, and a focus on mental well-being, I have witnessed incredible transformations. But for me, it is not just about numbers on a scale or achieving a certain physique; it is about empowering individuals to lead healthy, balanced lives.
Beyond the weight loss industry, I have also been deeply involved in the realm of grief support groups. Life has taught me the importance of empathy and understanding, having experienced my own personal challenges with grief. This led me to dedicate my time and energy to create safe spaces for individuals to share their stories, find solace, and embark on a healing journey. Helping others navigate through grief and loss has become an integral part of my mission to make a positive impact on people's lives.
What sets me apart is my genuine care for each individual I work with. I believe that everyone's journey is unique, and I am committed to tailoring my approach to meet their specific needs. I strive to create a nurturing environment where clients can feel heard, supported, and motivated to achieve their goals.
email: [email protected]
Toni Guziec
Hello! My name is Toni and it is my passion to help individuals who are tired of feeling overwhelmed and stressed. I specialize in helping people meet their lifestyle and weight loss goals. I have been a Lifestyle Coach, focusing on personal well-being and weight loss, after struggling with my own health problems. I am deeply committed to helping others achieve their lifestyle goals and living a healthy and satisfying life. I have achieved enormous success with my clients for the past 9 years as a Health and Wellness Consultant with Jenny Craig and am extremely proud, that one of my clients received the highest national honor, that of being the "National Success Story of 2016".
Additionally, I possess over 20 years of management experience and enjoy gardening, yoga, and walking my dog. My experience allows me to help people create healthy habits and overcome the limiting beliefs that prevent them from living their "BEST" life. I believe that everyone's lifestyle journey is an individual experience, and I am committed to customizing my approach to meet my client's needs. I always create an encouraging, compassionate, and highly motivating environment where clients feel supported and validated to achieve their goals.
I invite you to contact me so we may partner together on your journey to health and wellness!
email: [email protected]